Report by Detlev Mehlis (in PDF)
Report by Detlev Mehlis (in PDF) [ Uncensored ]
(listing names stricken from section 96 in the official publication)
---
---
Mehlis Explains Why Names of Assad's Brother, Brother-in-Law Edited out of his Report

Associated Press - The names of President Assad's brother and brother-in-law and other top Syrians were edited out of the final report of a U.N. investigation as helping to plot the assassination of ex-Premier Hariri, U.N. diplomats said Friday.

German prosecutor Detlev Mehlis, who led the U.N. probe, told a hastily called news conference that he decided to delete the names when he learned Thursday morning the report would be made public because the Syrians had only been identified by a witness interviewed by his investigators.

Since their alleged involvement had not been corroborated, "it could give the wrong impression" of guilt and the presumption of innocence must remain, he said.

The deleted references to the alleged involvement of Assad's younger brother, Maher Assad, the overall Syrian security chief, and his brother-in-law Assef Shawkat, the military intelligence chief, as well as other members of the government's inner circle draw the net closer to the president.

Syria's U.N. Ambassador Fayssal Mekdad called the investigation "a very political analysis" and vehemently said accusations it wasn't cooperating were "absolutely incorrect and far away from the reality."

"I would like to confirm once again that Syria believes, strongly believes, that it is innocent and the committee has to look somewhere else to find those who committed this heinous crime," Mekdad told Associated Press Television News.

The final report cited a Syrian witness living in Lebanon as saying that Lebanese and Syrian officials had decided to assassinate Hariri about two weeks after the U.N. Security Council adopted a resolution that demanded the withdrawal of Syrian troops and intelligence operations from Lebanon. It recounted a number of high-level meetings between unnamed high-level Syrian and Lebanese officials.

The earlier version says two weeks after the adoption of the resolution, "Maher Assad, Assef Shawkat, Hassan Khalil, Bahjat Suleiman and Jamil Al-Sayyed decided to assassinate Rafik Hariri." Khalil is Shawkat's predecessor as chief of military intelligence, Suleiman was the head of internal security and was removed about two months ago, and Sayyed was chief of the General Security Department in Lebanon.

The final report includes a single reference to Shawkat. According to one witness, Shawkat forced Abu Adass to tape a claim of responsibility for Hariri's killing 15 days before it occurred.
Lahoud denies a claim that he received a phone call minutes before Hariri's assassination
Lebanese president Emile Lahoud has denied a claim that he received a phone call minutes before Hariri's assassination and has vowed to stay in office. The report had indicated that minutes before the bomb went off, Mahmoud Abdel-Al, the brother of Sheik Ahmed Abdel-Al, made a call to Lahoud's mobile phone and another to the mobile phone of Brig. Gen. Raymond Azar, then head of Lebanon's military intelligence. The brothers are both members of the pro-Syrian Al-Ahbash Sunni Muslim Orthodox group and the report called the sheik "a key figure in an ongoing investigation."
Israel Calls For Change of Regime in Syria Over Hariri's Death
Associated Press - Israeli leaders on Friday called for changes in the Syrian leadership, after a U.N. probe implicated top Syrian and Lebanese intelligence officials in the assassination of former Lebanese Prime Minister Rafik Hariri.

The findings drew the first official link between Damascus and the Feb. 14 slaying of Hariri, a popular opposition leader. The U.N. Security Council is scheduled to discuss the report Tuesday and may consider sanctions against Syria.

"I think there needs to be change in Syria," said Israeli Vice Premier Shimon Peres, adding that the United States and France should take the lead in deciding on an international response to the findings.

Referring to Syrian President Bashar Assad and his relatives in positions of power, Peres said: "If it is true that the (Syrian) government is involved in the murder (of Hariri), this will shake up the rule of the Assads," Peres told Israel Radio.

He added that it is "not natural or acceptable" for a family representing a small minority to rule Syria in what he said was a brutal fashion.

"This report is a positive act, a move in the right direction," foreign ministry spokesman Lior Ben Dror told the Agence France Presse.

"Israel, which was not implicated in any way in this incident, hopes that in the wake of this report the international community will redouble its efforts to put an end to Syrian involvement in Lebanon."

Dror said: "We wish for a free and independent Lebanon which can decide for itself about making peace with Israel," adding that Israel hoped the international community would push for the complete application of Security Council Resolution 1559.

The U.N. report stopped short of fingering Assad or his inner circle, but accused Syria of failing to cooperate and said the plot to kill Hariri in a car bomb must have had the blessing of Syrian security officials. The report includes a single reference to Assef Shawkat, Assad's brother-in-law and the Syrian intelligence chief. According to one witness, Shawkat forced Ahmed Abu Adass to tape a claim of responsibility for Hariri's killing 15 days before it occurred.

Ephraim Halevy, former chief of Israel's Mossad spy agency, said it was not necessary to prove a direct involvement by Assad. "The head of the Syrian pyramid is Bashar Assad," Halevy told Israel Army Radio. "I don't think ... there is any doubt that this was an extensive and coordinated operation that was planned for many months. Lots of people from the Syrian elite were involved."

Israeli legislator Yuval Steinitz, head of parliament's Defense and Foreign Affairs Committee, called for regime change in Damascus. "As far as I am concerned ... and here I have a dispute with some of the people in the (Israeli) security establishment, it is not just an American interest but a clear Israeli interest to end the Assad dynasty and replace Bashar Assad," said Steinitz, a member of Israel's ruling Likud Party.
Syria disputes U.N. Hariri report
Associated Press - Syria's foreign ministry adviser has said his country was an easy target for U.N. investigators examining who was behind the assassination of former Lebanese Prime Minister Rafik Hariri.
Speaking at a news conference Saturday to refute a U.N. report on Hariri's killing, Riyad Dawoodi said just because Syria had a strong military presence in Lebanon did not mean it was involved in the former prime minister's assassination.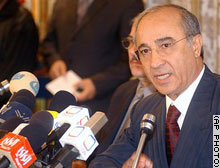 "There's a presumption taken by the (U.N.) commission that the very presence of Syrian troops and the Syrian security organs in Lebanon is something which should imply so and so and so," said Dawoodi, speaking in English.
"You cannot put any weight on the idea (that) because you are present in Lebanon, everything happening in Lebanon ... should be done according to your knowledge and you know about it," Dawoodi said.
"The report has a conclusion that this operation, the assassination of late Prime Minister Hariri, cannot be done without a means, a very sophisticated means which belongs to a highly-equipped security organ. And you just look around you, who is very very well equipped?" Dawoodi said.
Dawoodi repeated Syrian denials of involvement in Hariri's killing and said the report's findings were politicized and aimed at targeting Syria rather than finding the truth.
"All that was contained in the report is based on presumptions and allegations ... . There's no proof," he said.
"The (U.N.) committee until now has not provided any worthy evidence ... but rather has opened the door to debate on points it still is trying to prove," he said. "This report could not be used in court."